Andy Bulka's Taiwan 2000 Tai Chi Diary [ Note - these were taken down on my pocket pc using handwriting recognition. Apologies for any terse language - I did not edit since I wanted to retain the flavo

u

r of the 'on the road' narrative. ]

In July 2000 I left Australia and visited Taiwan to attend the

Taiwan CMC (Cheng man Ching) Tai Chi Tournament 2000. It was also a special 100 year CMC anniversary event.

When I arrived, Taiwan seemed very down to earth -- not as polluted or as hot as I thought but then tomorrow is another day. On the other hand, not very well planned, as a city. Has lots of old buildings. everything is a bit run down. Not pretentious just people living lives and being Chinese. I like it.

Saturday 8/5/00

Arriving at the Stadium I am overwhelmed by the number of people and the organisation. One thousand participants and lots of spectators .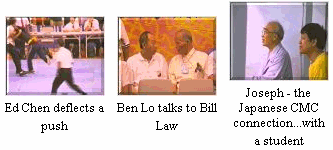 The opening Ceremony was touching when everyone turned to face the proffessor's picture in tribute . Over 80 tai Chi Schools did the form - wow.
Check out the full gallery of the tournament here
Sunday 8/6/00
I sat with part of the American contingent and talked with Carol about 100 vs 70 and knee over toe I talked with Warren about yielding and stories about Robert Smith and Wolfe
I talked and pushed with Ed Chen about different push strategies and the four really great masters - Ed included Master Ju Hong-Bin in this list. Ed recommends holding postures and not getting confused by different Masters. Later I talked to Ed's wife Louise about Sword shops and Master Liu's recent motorbike accident and how Master Liu is now 86 years old [ in 2000 ] and his push hands is formidable.
Bought Souvenirs, got a picture opportunity with Master Hsu and a plate with Cheng man Ching's photo on it - a plate which is now on my mantlepiece.
Went to a party at restaurant and sat at the head table with Master Hsu , his elegant wife, Ben Lo, the two proffesor's daughters Kate and Ellen, Master Hsu's son, and the Korean chap, Bill Law and me (Andy Bulka). Great food, and everybody from the other tables came and took their turn toasting us all. Then I had to go to another table and drink Taiwanese beer, one small glass had to be sculled for each person on the table - fun.
Then I saw Ben Lo by himself so approached him, sat down and asked him about his video and his weightedness in the cloudy hands posture, he confirmed he was a little tired and you should be 100% at each transition in cloudy hands. He demonstrated weightings by pressing his fingers onto my forearm - a magic moment! I also asked him whether CMC was an evolution or a return to the classics - he says look to the Classics but we got separated before we could talk further. He also emphasised stepping lightly before transferring the weight as proof you are 100%. Also, said 100% is truly 100% and not 99% or 99.5 %.

Master Hsu's party was fun With lots of people and Kate doing painting - Master Hsu doing calligraphy -lots of goodwill. People doing impromptu forms in the living room! Lots of tea and nibblies - no alcohol, and none needed. Very special community.
Check out the full gallery of the party here
Wednesday 8/9/00
Last day in Taiwan.
I took David Kaufman. and Ed Chen to Master Hsu's special practice area on round mountain - lickily I remembered the way. We all swept the area with Chinese brooms and practiced. Ed Chen had a rematch with Master Hsu's top student Chen the optometrist. Master Hsu went into full swing with the two Ben Lo students (Ed Chen and David Kaufman) and emphasized relaxing and correct body structure.
David Kaufman spoke to me about jing vs. Li and how he distinguished them in his body - I wonder how this relates to peng . We all went to lunch including Angela the girl who doesn't do the form only push as a hobby. Carol went to see her paintings and I said my good byes. Bill Law took me back to the hotel where l packed and went to the airport by bus.
Bought some gifts at airport and checked my email.
Took off. Goodbye Taiwan!

About Andy Bulka
Email me on abulka@netspace.net.au